ALL women deserve to feel confident and sexy with more youthful looking and feeling breasts.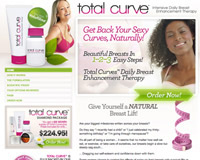 It's all part of being a woman… It seems that no matter how well we eat, or exercise, or take care of ourselves, our breasts begin a slow but steady sag south…
… Dragging our self-esteem and confidence down with them.
Some women choose to combat the effects of aging on their breasts with surgical lifts or implants. But… UGH!
It's all so painful, costly… and awfully EXTREME.